3. Deploy Azure resources¶
The scripted deployment will create a new resource group, by default this is named ProvisionGenie and will deploy all resources into it using the bicep files.
Deploy using the script¶
Open Azure cloud shell at shell.azure.com

This guide assumes the use of a PowerShell environment.

Change the working directory to the ProvisionGenie/Deployment/Scripts folder

cd ./ProvisionGenie/Deployment/Scripts

Execute the script ./Deploy-Solution.ps1 and supply the following parameters:

If you want to supply a custom resource group name, AAD App Registration Name, or deploy to a different subscription you may provide those as parameters when running the script
./Deploy-Solution.ps1 -ResourceGroupName MyResourceGroup -SubscriptionId "00000000-0000-0000-0000-000000000000" -AadAppName MyCustomAadAppName
Location the Azure region to deploy into, e.g. westeurope
TenantURL - you obtained this from the SharePoint app https://<your-tenant-name-here>.sharepoint.com
DataverseEnvironmentId You obtained this from Dataverse as Instance URL
WelcomePackageUrl the URL for learning material (if you don't know that for now, you can put https://provisiongenie.com or any other URL into it)
TenantId - that is your Azure tenant id - obtain it here in Azure portal
The script will run and deploy the Azure resources
Validate deployment¶
To confirm successful deployment and familiarize yourself with the components that have been deployed you should take a look at the resources which have been created in Azure.
Azure resources¶
After successful deployment, head over to the Azure portal. Then complete the following steps:
Select the ProvisionGenie resource group
Check the successful deployment of the resources

Managed Identity Permissions¶
Check in Azure AD if permissions were set correctly:
Select Enterprise Applications
Select Managed Identities from the Application type dropdown menu
Select Apply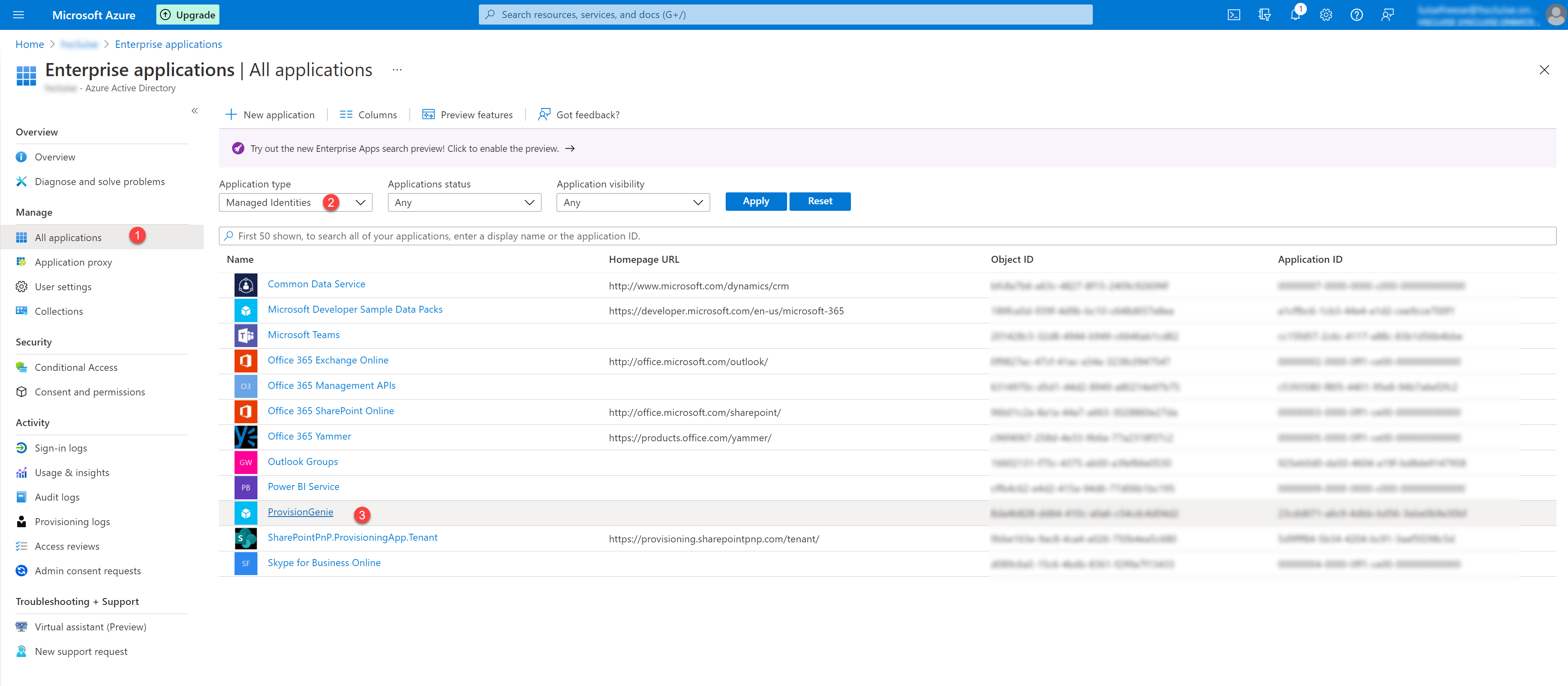 Select ProvisionGenie-ManagedIdentity
Select Permissions
It should look like this: